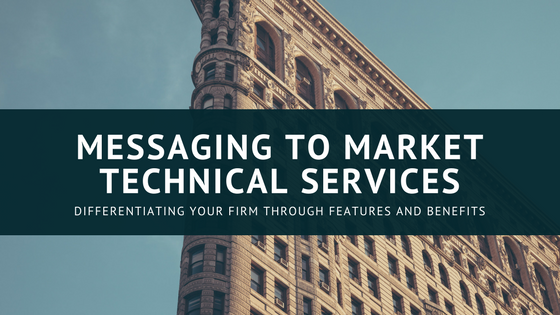 In today's economic climate, firms in the architecture/engineering/construction (AEC) industries need marketing more than ever. It is important for AEC firms to recognize that they and their clients operate in a unique environment that calls for a distinctive style of marketing. If a firm's client list includes institutional or government entities rather than retail or restaurant, their marketing style will differ greatly from firms who are well-versed in completion of retail and restaurant projects. Whether informing current clients about your experience to reassure that you can complete the project or focusing on a targeted client list for future business development, it is best to continually evaluate the practices you employ in a marketing strategy.
Here are some considerations to keep in mind when formulating your marketing messaging and deciding how to best maximize your efforts and resources. It seems obvious to highlight that you should value your clients' needs and provide for them, but so often it is easy to overlook how self-focused a qualifications package or a presentation may be. So, don't be afraid to ask your clients questions in order to tailor your marketing collateral to align with their needs. It is helpful to be as candid as possible to determine what their major problems are and what specifically interests them. Gathering information of this type is key to communicating how your firm can best provide services, and perhaps even solve their most pressing issues.
When composing qualifications together with a national AEC firm, we determined that their project experience section needed to emphasize "Principal-level involvement in each project." We recognized that their government and institutional clients were concerned about quality assurance. It was, and continues to be, important to communicate this aspect of their internal operations to their current and potential clients. Internally, this was a key feature of their quality control program, but only through careful marketing planning were we able to ensure that we highlighted this benefit to the client. By including and explaining this feature in the qualifications, the University receiving their proposal could feel comfortable that the highly qualified Principals in the national firm were very involved in all aspects of higher education project completion.
This national AEC firm thrived in several marketplaces because they had made considerable investments in their marketing program. With thorough and consistent self-evaluation, they were able to continually exceed the expectations of their federal, state, municipal and institutional clients. This included performing ongoing due diligence regarding client needs and concerns, as well as staying up to date on political and industry trends that might impact their clients' projects.
Since it is imperative to draw attention to the benefits your firm provides to clients, it is also imperative to analyze what your marketing message communicates to them. Some features are so often repeatedly highlighted in marketing collateral that we don't dig deeper into their meaning. With some thoughtfulness, a firm may better position themselves through their marketing message by recognizing what that message imparts. For instance, what really is the benefit of your client hiring a "multi-disciplined engineering firm?" A quick bit of analyzation allows us to write better marketing qualifications and expand upon what this really means to a client. This terminology signifies that you can deliver a solid project because your internal team works together in a unified, cohesive manner.
Similarly, we all repeatedly state that we are experienced. What are you really trying to say every time you mention your "experienced team?" The "experienced team" that explains their exact, relevant experience is always going to successfully share the significance of this assertion, and therefore deepen their clients' understanding. This term can be meaningfully explained in several other ways, too. If your client has stated that they desire to know the extent to which your team members or key personnel have worked together successfully on past projects, give them the details.
In the AEC industry, the firms that will stand the test of time are those who have incorporated a strong marketing position to complement their business development efforts. This goes hand in hand with the importance of client relationship management, where building and maintaining relationships can often be the key to success.