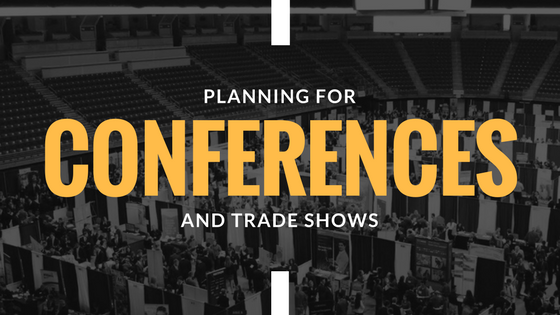 Planning for conferences and trade shows is an essential part of any marketing plan. In fact, we like to build a lot of content around conferences and trade shows – especially when the firm is presenting. Leading up to the conference we often plan blog posts, email newsletters, and social posts that set the stage for the event and showcase the firm's expertise. Internally, we plan for conferences and trades shows by setting a booth schedule, planning topics to discuss with attendees, ordering a fun give away for the booth, and so much more to make sure the event is successful for the firm. Below, we provide more conference success stories, help you determine which conferences to attend, and explain in more detail the importance of networking while you are there.
---
Should You Attend That Event? 9 Questions to Help You Find Out | HubSpot
In order for firms to get the most out of an event, it is important to filter through any upcoming conferences or trade shows, and choose to attend the ones that will enhance your firm and employees. There are 9 key questions to ask yourself before committing you and your team to a conference:
Will the conference help you develop better relationships?
Will the conference help you generate equality leads?
Can you prove ROI to management?
Are there speaking opportunities available?
Can you easily make connections with others on social media?
Can you blog about it after? (And will that blog post perform well?
When you're out of the office, who (or what) is going to manage your marketing responsibilities?
Will the event help you and your team grow?
Is this a good team-building opportunity?
While this is not an extensive list, these are key questions that will help your firm determine if a conference is appropriate to attend. Click the link above to receive a more detailed explanation on how these questions are key to making a decision.
The 12 Commandments Of Incredibly Successful Tradeshows | Forbes
The following are a list of "secrets" listed to be successful at generating leads at a conference or trade show:
Never go t an event that you can't generate more leads than you will need to pay for before you get there
Look sharp, be sharp and be kind
Trade leads with every other vendor at the trade show
Never go to a show you cannot speak at
When you speak, grow your industry
Always have your own event(s) going on at the same time
Set appointments for people to come meet your executives
Give cool SWAG away that matters and pulls well
Be audacious and memorial, but smart and relevant
Have your best lead generators at the event
Promote the event like it is your own
Respond as fast as you can to all request and set appointments right at the show
Exhibition Secrets For a Successful Conference or Trade Show | Social Media Week
Conferences and trade shows are an important part of your firm's marketing strategy. These tools are a great way to generate leads, and with the proper planning, preparation and team follow-up, your firm can be successful while attending and being apart of a conference. The following article explains what you should complete before an event, such as identify the main reason you are attending, testing designs, etc. There are also items listed that explain what should happen while at the event and a short while after.
---
Check out these additional articles to gain more insight on conferences and trade shows:
Are These Rookie Mistakes Squashing Your Trade Show Success? | Event MB
How To Market Your Business At Trade Shows and Maximize ROI | The Content Factory
7 Ways to Get the Most Out of Exhibiting at a Trade Show | Entrepreneur
---